Therapeutic Massage
Lomi Lomi
Originating from the Big Island of Hawaii, Lomi Lomi has the capacity to accommodate various client's needs including, increasing energy, joy, levels of relaxation, muscular reset, preparation for an endurance event and much more.  Flowing with total energy and using long continuous strokes; the speed, depth and variety of methods can be adjusted to directly match the client's preferences, making this one of the most flexible modalities available. Highly recommended for athletes or anyone with overall stiffness!
•60 minutes - $85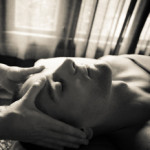 Integrative Therapeutic Massage
Integrative Therapeutic Massage combines techniques of Swedish massage, deep tissue, sports massage, trigger point therapy, myofascial release and propriocepritive neuromuscular facilitated stretching to treat and prevent chronic and acute injuries while helping relieving stress. An educated assessment of your body will help to design the proper plan of treatment and care.
30 Minutes - $45
60 Minutes - $80
90 Minutes - $105
120 Minutes - $155
Ask your therapist about massage packages
Thai Massage (Nuat Boran)
Thai Massage, also known as Thai Yoga Massage, is performed on a large mat on the floor. Client is provided loose, comfortable clothing to wear as the therapist takes them through a series of pres-point work and stretching. The deep pres- sure point work and palm pressing is used along "Thai sen lines" in your body. Range-of-motion and large body stretches are incorporated bringing into yoga-style poses. This is why Thai massage has often been referred to as "lazy man's yoga." Thai yoga can be slightly more intense compared to Western forms of massage many are used to but clients have shown incredible results.
60 Minutes - $100
90 Minutes - $140
120 Minutes - $175
Hot Herbal Thai Bundles can be added to any treatment for $30 and are yours to keep!
Kinesio Taping
The Kinesio taping method involves taping over and around muscles in oder to assist and support or to prevent over contraction all while allowing you to remain involved in your normal activities. This specially designed, elastic, cotton tape helps provide facilitation of lymph flow and also affects the activation of the neurological system. Developed by Dr. Kenzo Kase over 25 years ago in Japan it has taken the rehabilitation and sports medicine world by storm in the most recent years. To learn more please speak to your Kinesio Tex Practitioner
Tiffany Rickert
or visit the
Kinesio website
.
Add a taping to any massage for $10
Additional taping $15
Couples Massage
Want an even better way to relax and relieve muscle pain? Enjoy a massage with your partner or friend. Either chat away or relax with tables side by side while you each unwind with your own personal therapist.
60 Minutes - $160
90 Minutes - $220
Please call ahead when scheduling a couples massage to allow time to schedule two therapists.
Hot Stone Massage
Smooth, water heated basalt stones become and extension of the therapists hands providing relief from muscle tension and restrictions. Muscles "melt," and open up from warmth, allowing deeper work without the feeling of the pressure, while sending you into a medative state of relaxation.
Prenatal or Postpartum "Mother Massage"
Pregnancy brings on a deal of great changes. There are many physical and psychological changes that occur during pregnancy, as well as after birth. Now more than ever is the time you need your health and vitality. Massage is a wonderful was to relax, increase your energy, and relieve discomfort during pregnancy.  (Lay face down full term with our safe and comfortable body cushions!)
Infant Massage Classes
Infant Massage is an ancient parent tradition within many cultures that has been rediscovered and adapted by the western world. Learn how to stimulate the growth and development of your baby while reducing your own stress level. Bond with your baby as you help reduce gas and colic and promote deeper, longer sleep for your little one. Infant Massage classes are taught individually or in a group, once a week for 4 to 5 weeks. Babies are gradually introduced to massage so they are not over stimulated. Classes last approximately one hour each.
Individual Classes - $35 per class
Group Classes - $25 per class